Message from Dr. Jennifer Chan
Scientific Director of the Arnie Charbonneau Cancer Institute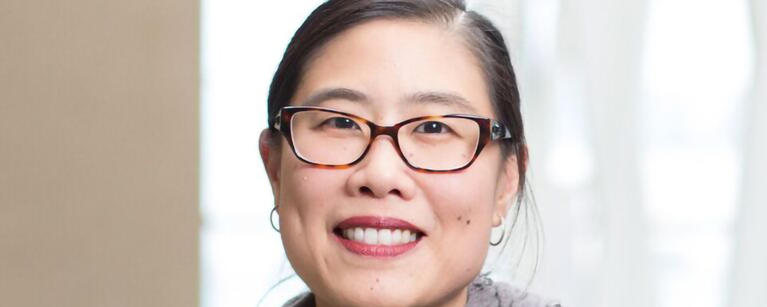 Message from Dr. Jennifer Chan, Scientific Director of the Arnie Charbonneau Cancer Institute
January 27, 2021
Dear Cancer Research Colleagues, Friends, Partners, and Supporters,
Thank you for allowing me the time to introduce myself to you as the new Director of the Arnie Charbonneau Cancer Institute, and to let you know about a few things coming up for the institute in the next 6 months.
I am a clinician-scientist and have been an investigator in the institute since 2008. As an individual investigator, my research program has focused on the biology of brain tumours from the perspective of developmental neurobiology. My lab work revolves around questions of cell-of-origin, cancer stem maintenance, cell fate, and cell-cell interactions in gliomas. I also collaborate more broadly with others in the areas of molecular oncologic pathology and precision cancer medicine.
For the past 7 years, I have also served as the institute's Deputy Director – working closely with previous Director, Dr. J. Gregory Cairncross and the rest of the leadership team to shape programs, bring in recruits, develop space, and promote the accomplishments of our investigators. I am grateful to have the opportunity to continue serving you, representing you, and growing with you in the years ahead as the institute's new Director.
I am pleased to present our 2020 Report to the Community, a joint annual report with the Tom Baker Cancer Centre that highlights some of the innovative and impactful work already going on. You can download a copy of the report using the link provided.
To me, the Charbonneau is not just a research institute, but a community of cancer-focused scientists, physicians, research staff, trainees, patients, families, and communities – all of whom share the goal of making a difference in cancer through research that impacts policy, care, and outcomes. As Scientific Director, I will work closely with our researchers and key partners at the University, AHS, funding agencies, and beyond, to support this goal.
The coming months and years will be critical to the success of the research endeavor.  With the opening of a new cancer center in only a few short years, we have a wonderful opportunity to shape the future of cancer research by enhancing the integration of research and care and by creating an environment where we can not only address important questions with agility and creativity, but also train the next generation of researchers within a culture that values collaboration and innovation.
Realizing this potential, however, will take learning, planning, concerted action, and involvement of engaged individuals both inside and outside of the institute. We need your passion, your expertise, your creativity, and your wisdom as we move forward.
To this end, there are few things coming up that I would like to let you know about:
Charbonneau Engagement and Strategic Planning Survey (coming to your Inbox in the next few days)
our new electronic Ideas Box – to help us hear your thoughts and promote continuous improvement (to debut in the next few days)
listening – we'll be reaching out to individuals and groups to better understand current needs and begin to identify opportunities (over the next 3 months)
an all-hands Town Hall – to share survey results and describe committees and work to come in the planning process (in about 3 months)
These next steps are important, as the information we collect will be used to update our strategic plan, which we aim to have completed by mid-summer 2021.
In parallel, we are working closely with colleagues at Cancer Care Alberta and the Cumming School of Medicine on the Collaboration Agreement on Cancer Research between AHS and the University. This document, a companion document to the high-level Memorandum of Understanding recently signed between the institutions, will further strengthen our partnership and provide a road map for working together in the new cancer centre.
We will roll these out shortly, so please stay tuned. In the meantime, if you have any questions, please feel free to ask! 
Looking forward to hearing from you and working with you,
Jennifer Chan
Scientific Director