Message from Dr. Jennifer Chan
Director of the Arnie Charbonneau Cancer Institute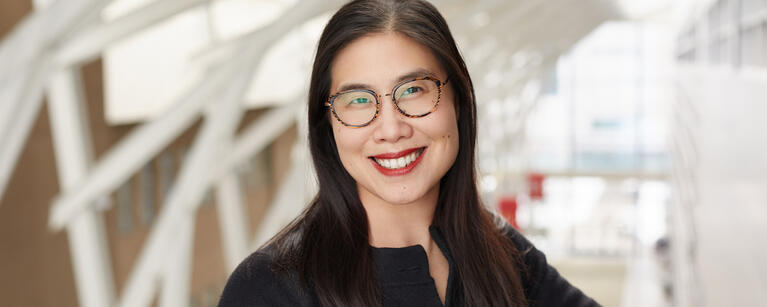 Message from Dr. Jennifer Chan, Director of the Arnie Charbonneau Cancer Institute
March 6, 2023
Dear Cancer Research Colleagues, Friends, Partners, and Supporters,
It has been a busy and rewarding time for us at the Arnie Charbonneau Cancer Institute. The past year marked an exciting period of continued growth, discovery and impact for the Institute, our members, and our community.
Nearly half of all Canadians will face a cancer diagnosis in their lifetime, but for many, what would have been a death sentence only a decade ago can now be managed with proven treatments, thanks to amazing advancements in cancer research and translation from the bench to the bedside. Everyday, our research community strives towards the goal of creating a better future for cancer patients, their families, and the community at large through innovation in cancer research.
Now, more than ever, innovative, and adaptive thinking coupled with precise and proven tools are available to treat patients with cancer and give them not only longer lives, but also better long-term quality of life.
In partnership with the Tom Baker Cancer Centre and Cancer Care Alberta, we are excited to share with you the 2022 Annual Report on Cancer Research in Calgary and Southern Alberta. This report highlights the breadth of discovery, passion, innovation, and impactful work we continue to undertake daily. You can download a copy of the report here.
We are excitedly entering yet another period of immense growth, as the doors for the new Calgary Cancer Centre are set to open to our patients and community. This will enable our teams to launch some exciting new and expanded research initiatives made possible through generous community giving. This long-awaited opening has presented us with the opportunity to shape the future of cancer research by enhancing the integration of research and care and by creating an environment where we can not only address important questions with agility and creativity, but also train the next generation of researchers within a culture that values collaboration and innovation.
Our vision for the upcoming year includes the following:
Continued dedication to research focused on prevention, improving treatment, and improving patient experience and outcomes;
Fostering a collaborative environment;
Fostering a community that is reflective of all;
Growth in discovery, innovation and learning;
Supporting our researchers in their quest for discovery;
Connecting with the community and educating the public.
I hope that you will join us over the next year as we work together to lessen the burden of cancer in Calgary and beyond.
Sincerely,
Jennifer Chan
Director, Arnie Charbonneau Cancer Institute