The Riddell Centre for Cancer Immunotherapy
Revolutionizing Cancer Care: Where Hope Meets Innovation.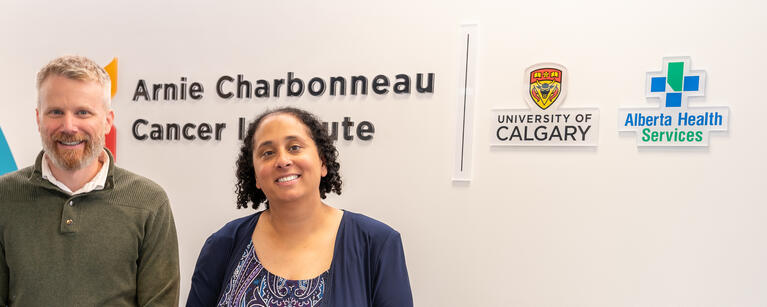 Immunotherapy involves boosting a patient's own immune system to recognize and attack their cancer cells. Chimeric antigen receptor (CAR) T-cell therapy is one of the immunotherapy treatments researchers at the Riddell Centre will focus on. A patient's T-cells are genetically modified in a lab with "instructions" on what the patient's cancer looks like. These modified T cells are then reintroduced into the patient in a clinic, where they attempt to find and kill cancer cells.
A multi-million dollar gift from a Calgary family to the OWN.CANCER campaign will support new cancer immunotherapy research and medicine development through the creation of the Riddell Centre for Cancer Immunotherapy at the Cumming School of Medicine (CSM), Arthur J.E. Child Comprehensive Cancer Centre and Alberta Children's Hospital — advancing the goal of making Calgary home to some of the best cancer research and care in the world. 
The $25 million donation will help to reduce the burden of cancer in children, adolescents, and adults and improve survival through the rapid development and implementation of safe and effective precision cell and immune therapies for cancer.
"Immunotherapy enables us to boost a patient's own immune system to recognize and attack their cancer cells," said Dr. Douglas Mahoney, PhD, associate professor at the CSM and director of the Riddell Centre. "Right now, it is used to help children and adults with certain forms of cancer who don't respond to conventional therapies, including rare and hard-to-treat cancers. With more research, I am confident that it will become a mainstay of cancer treatment for patients with many different forms of cancer."
These precision cellular therapies will be developed for blood cancers and also treatment-resistant solid tumours – making the Riddell Centre one of the first centres in Canada dedicated to creating innovative immune-based medicines in the lab and testing them for safety and activity in cancer patients. The potential of a new treatment option for her patients has Dr. Mona Shafey, MD, hematologist and associate director of clinic research at the Riddell Centre, excited. She says immunotherapy is proving to be very effective in some of her patients with blood cancers, particularly those with an aggressive form of non-Hodgkin's lymphoma called diffuse large B-cell lymphoma.
"It can be quite dramatic. Sometimes you can see an impact within a week to a couple of weeks after the treatment," says Shafey. "And in fact, some patients have been demonstrated to have complete responses within a month of receiving the CAR T-therapy."
While results are promising and have created hope for a new treatment option for some cancer patients, Shafey says it is important to remember that we are still only scratching the surface of the potential of immunotherapy, and that at this point CAR-T cell therapy has been used to treat blood cancer patients who have failed other lines of treatment in hopes of putting them into remission.
New Calgary biomanufacturing capacity
In addition to supporting discovery science and clinical research, the Riddell Centre will build a Calgary-based biomanufacturing program to enable rapid, high-quality and cost-effective manufacturing of cell therapies that meet Health Canada and international regulatory standards. Once fully operational, this local expansion of biomanufacturing capacity will create employment and efficiencies that will both enable access for patients to new immunotherapies and create cost savings for the Alberta health-care system.
"As we work to solve the cancer challenge and improve the lives of patients in Canada and around the world, UCalgary is also helping local industries to grow — including biotechnology — and building entirely new ones," says Dr. Ed McCauley, UCalgary president and vice-chancellor. "The Riddell Centre for Cancer Immunotherapy will be a big part of Calgary's economic story through its made-in-Alberta approach to biomanufacturing new cellular and immunotherapies."
Collaborations are already in place at local, provincial and national levels. The local collaboration includes scientists at the University of Calgary, biomanufacturing experts at Alberta Precision Labs, and clinicians at the Tom Baker Cancer Centre and Alberta Children's Hospital.
"We are very excited about the future of immunotherapy, as a pillar of cancer treatment," says Dr. Jennifer Chan, MD, director of the Arnie Charbonneau Cancer Institute at the CSM. "From cell-based therapies, like the CAR T-cells, to the development of new antibodies, immune-modulating drugs, and cancer vaccines, we are innovating, collaborating, and leveraging new technologies every day in our labs and with our partners including Alberta Health Services to find new ways to harness the body's immune system to treat cancer and ultimately improve outcomes."
The Riddell Centre will also have a particular focus on difficult pediatric cancers, a population that is often overlooked by traditional clinical trials.
"We are very grateful to the Riddell family for making this transformative gift," says Dr. Todd Anderson, MD, dean of the Cumming School of Medicine. "This work is at the heart of the CSM's focus on precision medicine, finding individual treatments specific for patients. It is a very exciting time in cancer research."