Congratulations to Ki-Young Lee on his funding success!
Dr. Ki-Young Lee and his Team are the Recipients of Grant Funding from the Recently Announced Canadian Institutes of Health Research (CIHR) Fall 2020 Competition.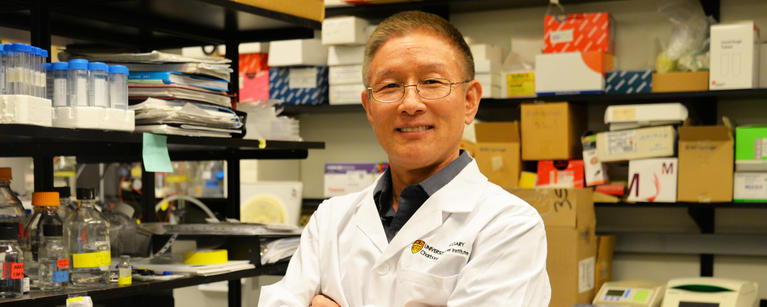 Description provided by Ki-Young Lee, PhD

Ki-Young Lee is a Professor with the Department of Cell Biology and Anatomy at the Cumming School of Medicine
Acute lymphoblastic leukemia (aLL) is a devastating cancer of immature white blood cells that largely affects children, representing more than a quarter of all childhood cancers, and causing most of the cancer deaths among children. L-asparaginase (ASNase) is a key component of aLL chemotherapy, but how ASNase kills aLL cells remains to be defined.
Our recent studies point to PAR2 and OPRM1 as cell signaling pathways through which ASNase causes aLL cell death. PAR2 and OPRM1 have been separately implicated to trigger an increase in cell calcium, which at overwhelming levels cause cell death. It is not known how ASNase activates with PAR2 and OPRM1 to induce aLL cell death. 
Our hypothesis is that ASNase kills aLL cells by disrupting calcium homeostasis through activation of PAR2 and OPRM1. We employ our expertise in cell signaling and calcium dynamics to address our objective to elucidate ASNase activation and regulation of the PAR2 and OPRM1 signaling pathways that lead to the disruption of calcium homeostasis and subsequent death of aLL cells.
Our specific aims are: first, to investigate the involvement of PAR2 in ASNase-induced cell death; second, to determine how ASNase activates and regulates the OPRM1 pathway that leads to cell death; and third, to examine how convergence of the PAR2 and OPRM1 pathways disturbs calcium dynamics and causes aLL cell death. Altogether, our findings could provide insight into the development of novel therapeutics for aLL.
Learn more about Dr. Lee's work at: https://charbonneau.ucalgary.ca/our-members/full-members/dr-lee-ki-young