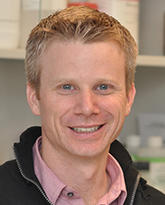 Douglas Mahoney
Assistant Professor
Microbiology, Immunology & Infectious Disease
Research and teaching
Area of Focus
How live viruses can be used to stimulate the natural immune system to attack and kill cancer cells
Summary of Research
Over the past decade, immunotherapy has emerged as a "fourth pillar" of cancer therapy. Our lab is developing novel virus- and T cell-based immunotherapies for treating pediatric solid tumours and other cancers. To accomplish this, we use a variety of standard and cutting-edge multidisciplinary techniques, including intravital microscopy and other in vivo imaging modalities; flow cytometry and other standard immunology methods; high-throughput drug, RNAi and CRISPR screening; genetic engineering of viruses, cancer and T cells; and next-generation sequencing. Our primary model system is the mouse. We use syngeneic murine models of pediatric sarcoma, neuroblastoma and adult breast cancer, including novel autochthonous sarcoma models currently being developed. Our research encompasses the study of both the cancer and its environment, including secondary lymphoid organs and the gut microbiome.
Biography
Dr. Douglas Mahoney is a translational scientist at the Charbonneau Cancer Institute and Alberta Children's Hospital Research Institute at the Cumming School of Medicine. Over the past 15 years, he has made important contributions to the development of multiple cancer immunotherapies that are now being tested in human clinical trials. Currently, his lab is focused on understanding how rhabdoviruses interact with immune cells and using that knowledge to engineer "designer viruses" that evoke anticancer immunity and improve Chimeric Antigen Receptor (CAR) T-cell therapy of cancer. His lab uses cutting-edge synthetic biology, high-resolution in vivo imaging and robotic screening technologies, amongst other methodologies, and works collaboratively with leading genomics and immunology labs in Alberta.
Dr. Mahoney is the Scientific Director of a new research initiative called ACTION (Alberta Cellular Therapy and Immune Oncology), launched in 2020 in partnership with the Canadian Cancer Society. Within ACTION, Doug's team is focused on developing innovate next-generation engineered T cell therapies against novel targets identified on high-fatality solid tumours.
Outside the lab, Doug spends his time with his wife and three children, mostly enjoying the Alberta/BC wilderness.