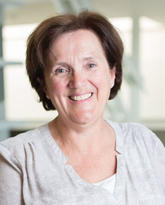 Susan Lees-Miller
Professor
Biochemistry & Molecular Biology, Oncology
Preferred method of communication
ADMIN ASSISTANT
Samantha Veress
Email: shelf@ucalgary.ca
Office: 403-220-6553
Research and teaching
Area of Focus
Mechanisms of DNA double strand break repair
Summary of Research
The main focus of our lab is to understand how cells detect and repair DNA damage induced by ionizing radiation and chemotherapeutic drugs. Of particular interest are the roles of the DNA-dependent protein kinase catalytic subunit (DNA-PKcs) and Ataxia Telangiectasia Mutated (ATM) in the cellular response to DNA damage. A major goal is to use our knowledge of the DNA damage response to develop novel approaches to improve cancer treatment. We are currently exploring the use of poly ADP ribose polymerase (PARP) inhibitors to target ATM deficient cancers and the role of PI3 kinase in cisplatin resistance.
Positions available:
The Lees-Miller lab (https://www.ucalgary.ca/bmb/profiles/dr-susan-p-lees-miller) is looking for outstanding, highly-motivated trainees (MSc and PhD students) to work on repair and non-repair functions of the DNA-dependent protein kinase, DNA-PK. Positions are available immediately. Please email your resume with courses taken and grades, research interests plus contact information for three referees to leesmill@ucalgary.ca. Please use GRADUATE STUDENT in the subject line of your inquiry. This opportunity will remain open until the positions are filled.
Biography
Dr. Lees-Miller obtained her BSc and PhD from the University of Wales. She carried out post-doctoral training at the Biochemistry Department at the University of Alberta and Brookhaven National Laboratory, NY before joining the University of Calgary, Department of Biological Sciences in 1992 as an Assistant Professor. In 2003 she joined the Department of Biochemistry and Molecular Biology in the Faculty of Medicine. Dr. Lees-Miller has over 150 publications that have been cited over 11,000 times.
Dr. Lees-Miller is a Fellow of the Royal Society of Canada.