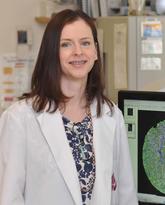 Corinne M. Doll
Clinical Professor
Oncology
Preferred method of communication
ADMIN ASSISTANT
Chelsea Gladue
Email: chelsea.gladue@ahs.ca
Office: 403-521-3196
Research and teaching
Area of Focus
Functional indicators of cervical and anal cancer response to radiation and chemoradiation therapy
Summary of Research
Approximately half of all cancer patients will be treated with radiation therapy at some point in their management. For some cancers, such as locally advanced cervical cancer and anal cancer, high dose radiation therapy is the cornerstone of the patient's treatment. Unfortunately, despite going through weeks and weeks of treatment, some patients will not be cured.
We are investigating clinical, molecular, and functional indicators of radiation and chemoradiation response in patients with cervical and anal cancers, to determine their role in local tumour control, and patient survival. The ability to better predict the biological behavior of a patient's cancer, the patient's response to treatment, and the application of more effective therapies may improve clinical outcomes and save patients from undue toxicity.
Biography
Dr. Doll is a radiation oncologist at Tom Baker Cancer, and Clinical Associate Professor in the Department of Oncology at the University of Calgary, Cumming School of Medicine. She obtained her MD and FRCP(C) in Radiation Oncology from the University of British Columbia, and Fellowship training at the University of Toronto. She is the leader of the Gynecology Radiation Oncology Group at the Tom Baker Cancer Center, the Leader of Translational Research for Radiation Oncology, and Co-Chair of the NCIC Cervical Cancer Working Group. Her clinical practice and research interests are in Gynecology and Gastrointestinal malignancies.