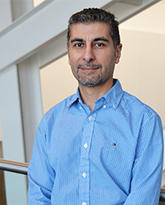 Tarek Bismar
Professor
Pathology & Lab Medicine, Oncology, Biochemistry & Mole
Deputy Department Head
Pathology & Laboratory Medicine
Preferred method of communication
ADMIN ASSISTANT
Ruby Reyes
Email: ruby.reyes@cls.ab.ca
Office: 403-943-3596
Research and teaching
Area of Focus
Cancer Biomarker Discovery and Implementation
Cancer biomarkers
gene expression
proteomics
prostate cancer
Research Activities
Dr. Bismar research focuses mainly on prostate cancer in two areas; low-intermediate disease whose patients are enrolled in Active surveillance programs with the aim to develop clinical signatures to guide urologist on follow-up protocols and when to implement definite therapy, thus promoting "Precision Active Surveillance guidelines". The second area is related to the development of neuroendocrine prostate cancer post hormonal and radiotherapy, where his main objective is to understand the genomic underlying in increased risk for such differentiation post hormonal and radiotherapy.
Biography
Dr. Tarek Bismar carried out his medical education in Syria at Damascus University faculty of Medicine graduating in 1996. He then moved to USA to continue his career where he worked as Research assistant at Michigan State University. In 2000, Dr. Bismar joined Washington University St. Louis for his Pathology residency in Anatomical pathology, followed by surgical pathology fellowship at Wayne State University in 2002 and a GU pathology fellowship at Harvard Medical School in 2003. In 2004, he joined the faculty of Medicine at McGill University as assistant professor and was appointed as the director of the Pathology Core Facility in 2005. In 2008 he moved to University of Calgary Cumming School of Medicine as associate professor and in 2015 he was promoted to full professor. Dr. Bismar directs a research lab is focusing on characterizing novel genetic signatures for GU cancers.
Dr. Bismar has published more than 115 peer reviewed publications mostly in prostate cancer biomarkers and genomic signatures and currently has active collaborations with several national and international investigators. His research employ multiple platforms including gene expression, copy number alteration and whole exome/genome sequencing of somatic and germ line mutations in association to invitro/ in-vivo manipulation.