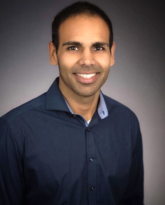 Kundan Thind
Adjunct Assistant Professor
Physics and Astronomy
PhD
University of Western Ontario, 2013
Research and teaching
Research Summary
Dr. Thind is Interested in research questions around use of automation and imaging in radiation oncology towards improvement in patient outcomes.
Biography
Dr. Thind received his PhD from University of Western Ontario in Medical Biophysics. Following his PhD he completed a Medical Physics residency at the Juravinski Cancer Centre.
Currently Dr. Thind is a medical physicist at the Tom Baker Cancer Centre as well as an Adjunct Assistant Professor in the Department of Physics and Astronomy at the University of Calgary, Cumming School of Medicine.