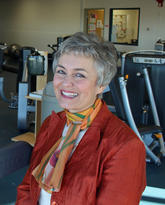 Christine Friedenreich
Adjunct Professor, Fellow Royal Society of Canada
Oncology, Community Health Sciences
PhD, Fellow Canadian Academy of Health Sciences
Preferred method of communication
ADMIN ASSISTANT
Seuli Roy
Email: seuli.roy@ahs.ca
Office: 403-476-2566
Research and teaching
Area of Focus
Physical activity in cancer risk and survival
Summary of Research
Dr. Friedenreich's research is focused on understanding the role of physical activity in reducing the risk of developing cancer and in improving quality of life and survival after cancer diagnosis. She has conducted over 40 case-control, cohort and randomized controlled trials examining how physical activity may reduce the risk of developing cancer, how exercise can be used to improve quality of life and survival after cancer, and investigating which biologic mechanisms may be involved in the association between physical activity and cancer. Dr. Friedenreich has also developed and validated new physical activity questionnaires that she has used in her research studies and that have been used worldwide. Currently, Dr. Friedenreich is leading the Alberta Moving Beyond Breast Cancer (AMBER) cohort study that has enrolled 1528 newly diagnosed incident breast cancer cases in Alberta. Very detailed and objective measurements of physical activity, health-related fitness and sedentary behaviour are taken at the time of diagnosis, at one, three and five years post-diagnosis. These women are followed up for all breast cancer outcomes with the objective of determining the type, dose, timing of physical activity and fitness that may be associated with survival after breast cancer. In addition, Dr. Friedenreich has led two large-scale randomized controlled exercise intervention trials known as the Alberta Physical Activity and Breast Cancer (ALPHA) Trial and the Breast Cancer and Exercise Trial in Alberta (BETA) that have examined how aerobic exercise influences biomarkers associated with breast cancer.
The ultimate goal of her research is to inform public health and clinical practice on the exact type, dose, timing of physical activity required to reduce cancer risk and improve quality and quantity of life after cancer. She leads multidisciplinary research teams and has support from specialized staff in core support units in her Department of Cancer Epidemiology and Prevention Research at Alberta Health Services. Her research has been funded since 1993 by research grants from both federal and provincial funding agencies and she collaborates widely with researchers in other fields as well as internationally.
Biography
Dr. Friedenreich is a cancer epidemiologist with the Department of Cancer Epidemiology and Prevention Research (CEPR) of CancerControl Alberta, Alberta Health Services and an Adjunct Professor in the Faculties of Medicine and Kinesiology of the University of Calgary (U of C). She held continuous career awards from CIHR, AHFMR/Alberta Innovates between 1990-2017 and held the Alberta Cancer Foundation's Weekend to End Women's Cancers Breast Cancer Chair at the University of Calgary from 2012-17. Dr. Friedenreich is the Scientific Director for CEPR and the Division Head for the Division of Preventive Oncology, Department of Oncology, Cumming School of Medicine, University of Calgary. She also holds leadership positions in the O'Brien Institute of Public Health (Associate Scientific Director and Interim Scientific Director).
Dr. Friedenreich completed her doctorate in Epidemiology at the University of Toronto in 1990 and postdoctoral work at the International Agency for Research on Cancer (IARC) in Lyon, France and at the U of C between 1990 and 1994. In 2004-5, Dr. Friedenreich was the Visiting Scientist at the IARC. In 2013, Dr. Friedenreich was a co-recipient of the Canadian Cancer Society's O. Harold Warwick Prize. Dr. Friedenreich was named a Fellow of the Canadian Academy of Health Sciences in 2016 and a Fellow of the Royal Society of Canada in 2019. Currently, Dr Friedenreich is the Chair of the Scientific Council for IARC and is a member of the WHO Physical Activity Guidelines Development Group.