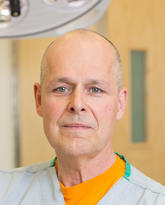 Joseph Dort
Professor
Surgery, Oncology, Community Health Sciences
Preferred method of communication
ADMIN ASSISTANT
Michelle Cavanaugh
Email: cavanaug@ucalgary.ca
Office: 403-220-7168
Research and teaching
Summary of Research
Our research program focuses on 4 main areas:
1) Designing better and more effective healthcare delivery systems: Using the tools of health services research and process engineering we change healthcare to be better, safer and more cost-effective. Dr. Khara Sauro, Assistant Professor - Community Health Sciences, Surgery and Oncology, plays a leading role in this aspect of our program.
2) Virtual Reality / Surgical Simulation: Our group, using surgical simulation tools, is also developing better ways to train the surgeons of the future. In collaboration with researchers at the University of Calgary, Western University and Stanford University we are designing virtual reality platforms that can be integrated into clinical care, surgical education and surgical planning.
3) Understanding Head & Neck Tumour Biology: Under the leadership of Dr. Pinaki Bose our team is exploring biologic mechanisms that explain head and neck cancer genesis and response to treatment. Using the tools of genome science and bioinformatics we are seeking to define predictors of treatment response, identify high-risk subgroups and discover novel molecular targets.
4) Improving clinical and functional outcomes after major head and neck surgery: In collaboration with Dr. Nicole Culos-Reed (Kinesiology, University of Calgary) our program is creating practical tools that will enhance recovery. The primary focus is on exercise as a key intervention in helping our patients get better faster. We are defining methods of implementing exercise programs in this challenging patient population and also asking our patients to co-design better methods of understanding meaningful functional recovery.
Biography
Dr. Dort is an Otolaryngologist – Head & Neck Surgeon and Professor in the Departments of Surgery, Oncology and Community Health Sciences – Cumming School of Medicine, University of Calgary. He completed his undergraduate and medical training at the University of Western Ontario and then a family medicine residency at the University of Ottawa. After practicing as a family doctor, Joe completed residency training in Otolaryngology at the University of Manitoba and then did a fellowship in skull base surgery at the University of Zurich. He holds an MSc degree in epidemiology from the Harvard School of Public Health. Dr. Dort is also a graduate of the advanced training program in healthcare delivery improvement at the Intermountain Healthcare Institute for Healthcare Delivery Research in Salt Lake City, Utah.
Dr. Dort currently serves as the Executive Director of the Ohlson Research Initiative, a clinical translational research program focused on head and neck cancer and recently served as the Senior Medical Director of the Alberta Cancer Strategic Clinical Network. He has authored many peer-reviewed publications and holds provincial, national and international research grants. Joe has been active in leading healthcare quality improvement initiatives in the former Calgary Health Region as well as within Alberta Health Services. He is passionate about working with colleagues to design and implement better ways to deliver patient care.