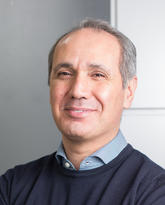 Nizar Bahlis
Associate Professor
Hematology and Oncology
Research and teaching
Summary of Research
Multiple myeloma (MM) is a hematological malignancy that affects bone marrow plasma cells and remains largely incurable. My laboratory is examining the signalling pathways and genomic alterations in multiple myeloma with the goal of discovering new molecular targets that may be translated into therapeutic applications. Aiming to improve the outcomes of patients affected by this disease, we have also established a Myeloma Genome Sequencing Unit with the goal to identify novel druggable genomic alterations and unmask the mechanisms of drug resistance.
We are also studying genomic instability in this disease, in particular the role of the proteasome-ubiquitin pathway in DNA damage repair. The human DNA damage response is reliant upon signalling using the small modifier protein called Ubiquitin (Ub). Since Ub is recycled by the proteasome, proteasome inhibitors (PI) have the effect of depleting free Ub pools such that the DNA damage-induced Ub-mediated signalling fails. We have found that MM displays a particular sensitivity to PI in combination with PARP inhibitors, and we are examining the molecular mechanisms underlying this effect.
Our laboratory has received funding from several national and international agencies including CIHR, Multiple Myeloma Research Foundation (MMRF), the Leukemia Lymphoma Society (LLS), the Cancer Research Society and the Terry Fox foundation.