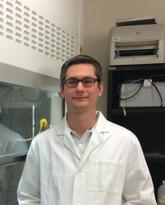 Darren Derksen
Assistant Professor
Department of Chemistry, Faculty of Science
Research and teaching
Research areas
Medicinal and Synthetic Chemistry Based on Natural Products
Summary of Research
Natural products are a diverse group of compounds that provide valuable lead structures for therapeutic development. Often present in only trace amounts from natural sources, synthetic chemistry provides a practical way of generating useful quantities of these materials to allow rigorous examination of their biological activities and furthering the understanding of the molecular interactions involved in eliciting the desired response. Frequently, systematic study of a natural product reveals that only a specific portion is required to produce the desired effect and synthetic chemistry provides a means of preparing these truncated or modified natural product analogs.
The Derksen research group is focused on the study of natural products that are relevant to cancer, particularly those occurring in the brain. Our research team is highly multidisciplinary, but with a strong emphasis on organic chemistry. We aim to identify natural product analogs that can be synthesized in a practical, environmentally friendly, and scalable manner while demonstrating high selectivity for their target receptors.
Biography
Dr. Darren Derksen is an Assistant Professor in the Department of Chemistry, Faculty of Science.