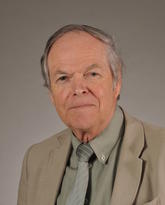 Alexander Paterson
Professor
Medicine, Oncology
Preferred method of communication
ADMIN ASSISTANT
Amanda Ambrus
Email: amanda.ambrus@ahs.ca
Office: 403-521-3688
Research and teaching
Summary of Research
Dr. Paterson has completed clinical research in melanoma and gynecological malignancies; phase I/II and III clinical trials research in breast cancer; research on natural history of breast cancer; and established and novel prognostic factors in breast cancer; patho-physiology and treatment of bone metastases; malignant hypercalcemia and its treatment: and prevention of bone metastases with bisphosphonates.
Biography
Professor Paterson was trained at Edinburgh Medical School and in London (St Bartholomew·s Hospital and Royal Marsden)
Dr. Paterson was on the Board of Directors of the NSA BP and is Chair of NSABP 834 protocol and a Co-chair of the SWOG/NSABP intergroup bone metastasis prevention trial. He was Chair of the Alberta Breast Cancer Programme 2002-2010 and is currently Chair of the Health Canada Oncology Therapies Scientific Advisory Commi ttee and Chair of the Breast Cancer Society of Canada Advisory Committee (Alberta). He is currently consulting on development of a Cancer Programme in Zamboanga City, Southern Philippines.
Dr. Paterson is a clinical oncologist at the Tom Baker Cancer Centre and University of Calgary with a full-time practice mainly in patients with carcinoma of the breast. He teaches in the Physical Examination Course to medical students in the University of Calgary and writes a column for Alberta Doctors Digest on general topics.
Dr. Paterson has also performed clinical research in palliative care medicine. prevention and treatment trials in breast cancer (with US based NSA BP) and previously, research in autologous bone marrow transplantation. Tumor imaging radio-pharmaceuticals have also been included in his fields of research.