The Precision Oncology Hub is a translational research core facility located in the Tom Baker Cancer Center established to accelerate the translation of cancer research discovery into improved cancer patient care. We support translational research and develop and validate novel assays in order to bridge the gap from bench to bedside. By incorporating multi-omics profiling through proteomic biomarker discovery, genomic sequencing studies and pharmacokinetic analysis into cancer management and treatment approaches, we aim to develop standardized procedures to enable routine linking of molecular profiling with clinical decision making and deliver personalized therapy.
Several cancers are characterized by a complex molecular pathogenesis and intra- and inter-tumor heterogeneity. Therefore, biomarker discovery and genomic studies are extremely important for understanding disease biology in individual patients, the identification of actionable targets, and the delivery of a personalized therapeutics.
Furthermore, in the field of immunotherapy, we intend to develop methods to better understand mechanisms deregulating the immune fitness of cancer patients. Those approaches will help to enhance our understanding of the mechanisms mediating the immune tolerance in cancer patients, and identify and validate diagnostic markers (predictive and/or prognostic) of the patient's immune "health" status with the aim to implement novel ways to reverse immune tolerance.
We are a team of experts in proteomics, genomics, immunology, and computational biology with the goal to identify the molecular changes that drive cancer progression, discover new targets for therapy, and select drugs based on the "multi-omics" profile of the tumor. These approaches are critical to guide rationale selection of combination therapies for cancer patients that minimize the use of potentially ineffective therapeutics, and also lessen any potentially harmful side effects.
The Precision Oncology Hub has ongoing collaborations with different tumor group leaders in the Department of Oncology and with members of the Arnie Charbonneau Cancer Institute. We also foster collaborations with other oncology programs and industry partners to speed the translation of research discovery into improved patient care and lead to personalized medicine for each cancer patient.
To accelerate the translation of cancer research discovery into improved cancer patient care.
 
To develop standardized procedures to enable routine linking of molecular profiling with clinical decision to deliver precision therapy and improve cancer patients' care.
Molecular Analysis Unit:
DNA/RNA/miRNA extraction (fresh and FFPE material)
NGS library preparation and QC
Genomic sequencing (Illumina Next Seq 500 and Ion S5 XL)
Digital PCR analysis (rare allele detection)
Single cell sequencing
NanoString nCounter (RNA/miRNA expression, copy number analysis)
Genomic Studies Provided:
Whole exome sequencing, whole transcriptomic sequencing, targeted SNV and fusion gene sequencing panels (Oncomine Comprehensive Assay, Oncomine Childhood Cancer Assay, Oncomine TMB Assay), digital PCR for rare mutation profiling, single cell RNASeq/ATAC Seq and gene expression profiling.
Bioinformatic Analysis Provided:
DNA-based analysis: single nucleotide variants (SNV) calling, tumor mutational burden (TMB), copy number variants (CNV), structural variant (SV), microsatellite instability (MSI) and DNA-based fusion detection for DNA-seq. RNA-based analysis: RNA expression, RNA based fusion detection, RNA variation detection for RNA-seq. 
Functional Tissue Imaging:
Sample processing:

Collection of FFPE samples from Alberta Precision Laboratories and other repositories
Generation of clinical outcome databases
Construction of tissue microarrays
Processing of FFPE for various downstream applications

Tissue staining and scanning:

Creation of customize biomarker expression cell lines as immunohistochemistry (IHC) controls
Antibody optimization and validation for brightfield and immunofluorescent IHC for up to 9-color multiplex immunofluorescence assay
Brightfield and immmunofluorescent whole-slide scanning
Basic biochemical IHC stains including H&E

Digital Image Analysis and Machine Learning:

Clinical accredited automated Ki67 scoring and random forest analysis to predict risk of recurrence in breast cancer
Quantitative analysis of IF/IHC-based biomarker images
Multispectral digital image acquisition and unmixing
Evaluation of tumor microenvironment including quantification of various immune cell, spatial analysis such as nearest neighbor, proximity to tumor cells, immune heat maps
Proteomic Studies:
Antibody optimization for brightfield and immunofluorescent IHC, multispectral digital image acquisition, image analysis using digital pathology software, automated Ki67 scoring for breast cancer, multiplex immunofluorescent phenotype of tumor microenvironment, customize biomarker expression using cell biology approaches, and tissue microarray construction.
Pharmacokinetics:
Sample Processing and Extraction:

Purification, protein precipitation, extraction and concentration of small molecule analytes in biological matrices via solid phase extraction (SPE) and liquid-liquid organic extraction.
Plasma protein binding studies

Analytical Quantitative Analysis:

Method development and analytical analysis on High performance liquid chromatography platforms (HPLC)
Method development and analytical analysis of small drug molecules and metabolites via tandem triple quad LC/MS/MS
Elemental analysis by Atomic Absorption Spectroscopy

Pharmacokinetic  / Pharmacodynamic Data Analysis and Modeling:

Non-compartmental and compartmental pharmacokinetic models by Phoenix WinNonlin
Linked pharmacokinetic and pharmacodynamic models
Population pharmacokinetic models by Phoenix NLME

Clinical Trial Support:

Pharmacokinetic trial, PK sampling, and Phase I trial design

Alberta Precision Laboratory Clinical Services:

Therapeutic drug monitoring and dose adjustment of Busulfan
Thiopurine Methyl Transferase (TPMT) enzyme phenotype assay
Vitamin B1 and B6 in whole blood
Address:
Tom Baker Cancer Centre
Room AGE 87, 1331-29 Street NW
Calgary, Alberta T2N 4N2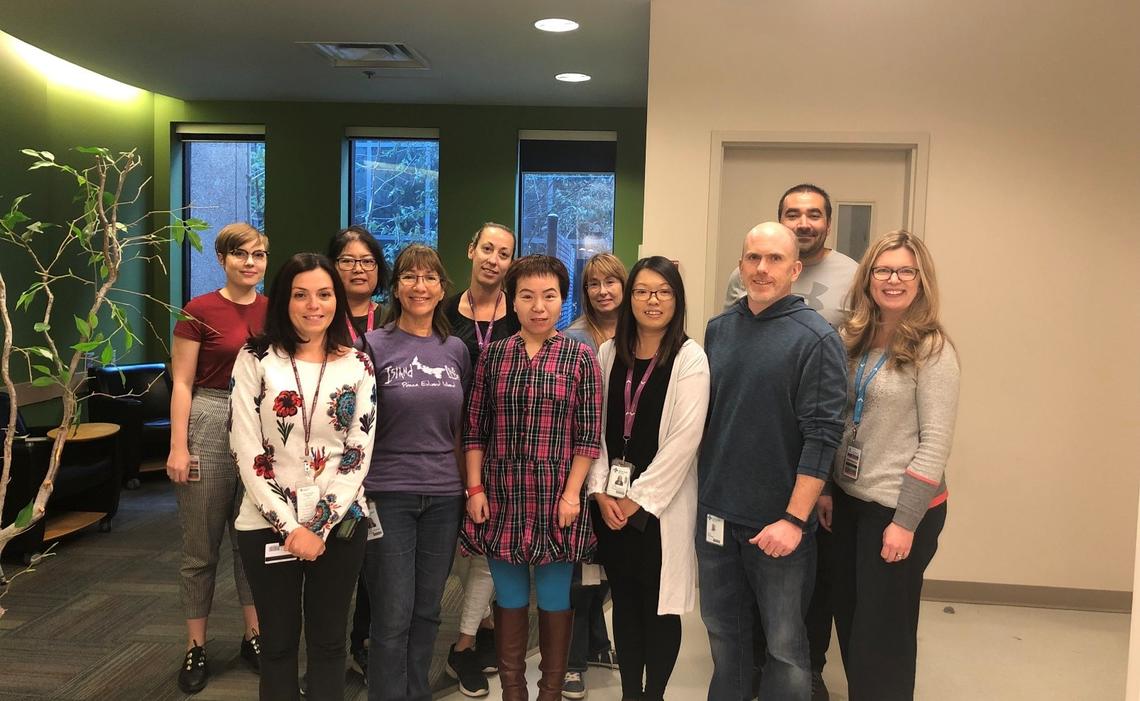 Equipment for Pathology and Digital Analysis
Molecular Profiling Platforms