Vaccine innovation targets high-risk childhood cancers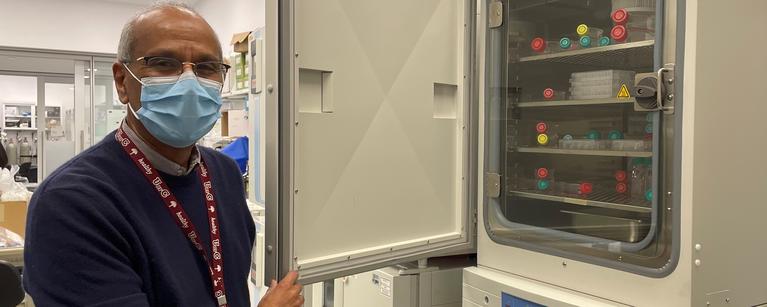 Vaccine innovation targets high-risk childhood cancers
AUTHOR: Calla Novello-Lauritsen, Advancement
Dr. Aru Narendran, MD, PhD pediatric cancer researcher and physician is working with a team to develop a novel therapeutic vaccine approach for treating high-risk, difficult-to-treat childhood cancers, including vaccines that elicit an immune response against stubborn tumour cells. This work is still in pre-clinical stages but, if successful, offers new hope for children and families affected by cancer.
The idea of developing vaccines to treat cancer is not a new concept. However, researchers are using cutting-edge techniques to advance our ability to design highly effective molecules that can stimulate the immune system to fight cancer.
"Often, the cancer cells come up with various tricks to shield themselves from recognition and subsequent killing by the body's natural immune system," says Narendran. "On the other hand, we hope to use vaccines to help awaken the immune system to recognize the cancer cells and to launch an attack while sparing healthy cells of the body."
Childhood cancer in Canada
Although overall outcomes of childhood cancer have improved greatly in recent years, a significant number of Canadian children experience treatment resistance to all currently available medications. For this reason, researchers like Narendran are working to discover safe and more effective cancer treatments and clinical trials.
As the only Canadian centre within the Pediatric Oncology Experimental Therapeutics Investigators' Consortium, Narendran's team at the Alberta Children's Hospital is collaborating with other researchers globally to bring forward innovative childhood cancer medications. His work focuses entirely on developing new "discovered-in-Alberta" cancer drugs and working with other investigators and pharmaceutical companies to bring in some of the successful adult cancer treatment drugs to further improve the care of children with high-risk cancers.  
Narendran is cross-appointed with UCalgary and the Alberta Children's Hospital. He holds the Kids Cancer Care Chair in Clinical and Translational Research in Pediatric Oncology, funded through Kids Cancer Care and the Alberta Children's Hospital Foundation.
Creating cancer-treatment collaboration
The new Calgary Cancer Centre will allow researchers like Narendran the ability to collaborate and innovate unlike ever before — and not just in Calgary. The world-class space, set to open in 2023/24, has been designed in a way that allows both the clinical side and the research side to work down the hall from one another. This facility will be a leader across North America and help foster the growth of innovation in the cancer space.