Transforming Cancer Research in Calgary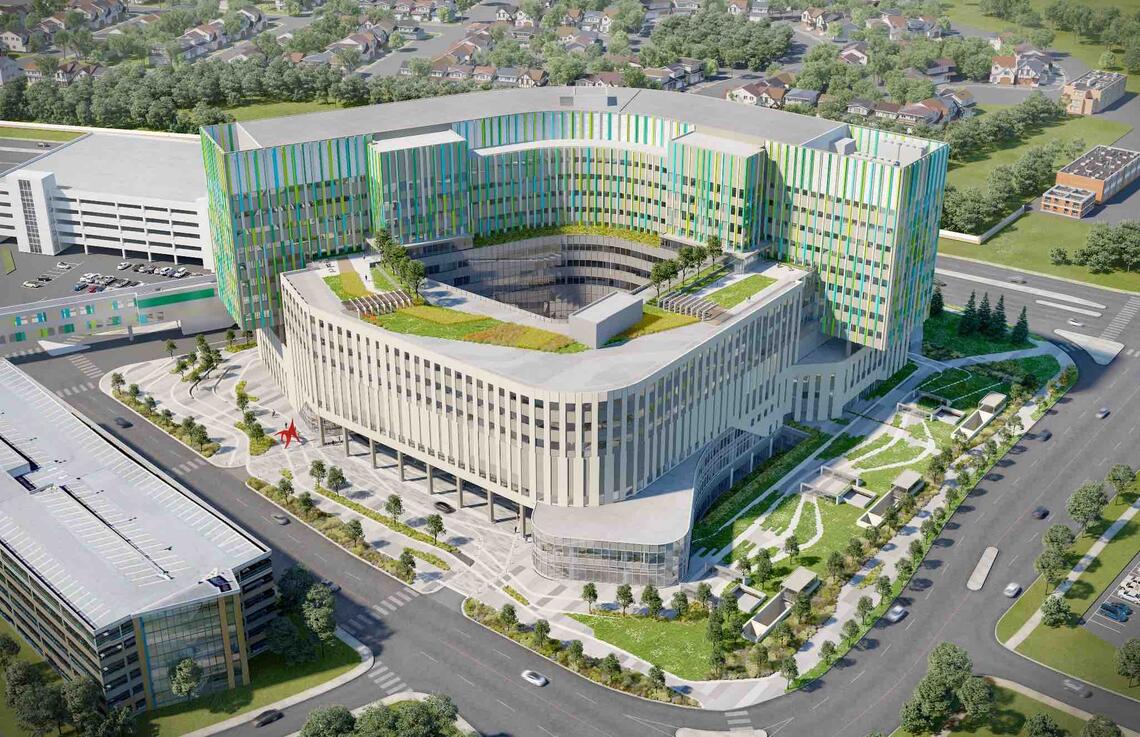 This summer history was made as the Arthur J.E. Child Foundation announced a donation of $50 million to the Calgary Cancer Centre through the Alberta Cancer Foundation. With this donation, the new cancer centre, which is set to open in 2024, will officially be named the Arthur J.E. Child Comprehensive Cancer Centre.  
What does this mean for the Charbonneau Cancer Institute and research in Calgary?
When it opens, the Arthur J.E. Child Comprehensive Calgary Cancer Centre will be the largest comprehensive cancer centre in Canada and the second largest in North America. With over 100,000 square feet of research space located within the new cancer centre, this investment is a dedicated commitment to advancing cancer research in Alberta.
"Calgary's cancer community, the University of Calgary, and Alberta Health Services will benefit from this transformational gift – and it can't be understated what it means for cancer research," said Charbonneau Cancer Institute Director, Dr. Jennifer Chan. "The donation will help accelerate research innovations, launch new initiatives, and foster collaborations, all of which will inform world-leading cancer care and treatment for Calgarians, Albertans, and Canadians, for decades to come."
 "By enabling us to recruit and retain the brightest cancer researchers, by equipping our researchers and their skilled teams with advanced technology, and by providing support for emerging opportunities, the donation will enable us to explore creative solutions, learn from every step of the journey, and impact the lives of those affected by cancer like never before," said Dr. Chan.
The Arthur J.E. Child Comprehensive Cancer Centre (Arthur Child) will allow access to an exciting mix of established and emerging programs led by a team of researchers and clinical experts that are dedicated and energized to address key challenges in cancer care and research. There is a science to providing care and all these approaches were driven by high quality research. This represents a renewed vision for the future of cancer research and care. By embedding research within the centre, we are following the example set by the world's leading cancer centres. As our researchers, clinicians and care teams collaborate under one roof, our research becomes dictated by real-life experiences, enabling us to tailor treatments to the unique needs of each patient. The centre will serve as a hub for discovery, a crucible for innovation, and a cornerstone for comprehensive cancer care. It will host an exciting mix of established and emerging programs led by a team of dedicated researchers and clinical experts. Within its walls, these teams will address key challenges in cancer care and research, driving a highly integrated approach where research informs clinical care and vice versa.
By investing in and bringing this comprehensive cancer Centre to life, we are investing in cancer research of all types. From understanding the origins of cancer, key mechanisms of resistance and progression, to exploring how to assess cancer risk and prevent it from occurring, to identifying new diagnostic and therapeutic targets, testing new therapies and treatment interventions, tracking patient-reported outcomes, and designing appropriate interventions.
We are so grateful for the support we have received from our community, our many donors, advisors, friends, and partners – and we are excited to embark on this new chapter in cancer research together. Through our combined efforts, we can and will make significant contributions towards improving the lives of individuals not only in our local community but around the globe.
For further updates on the Arthur J.E. Child Comprehensive Cancer Centre please visit: https://owncancer.ca/